"Truly, the most important investment we can make, with the greatest return, is in the health and duration of our lives, so that we may fully enjoy our family, friends, and life to the fullest."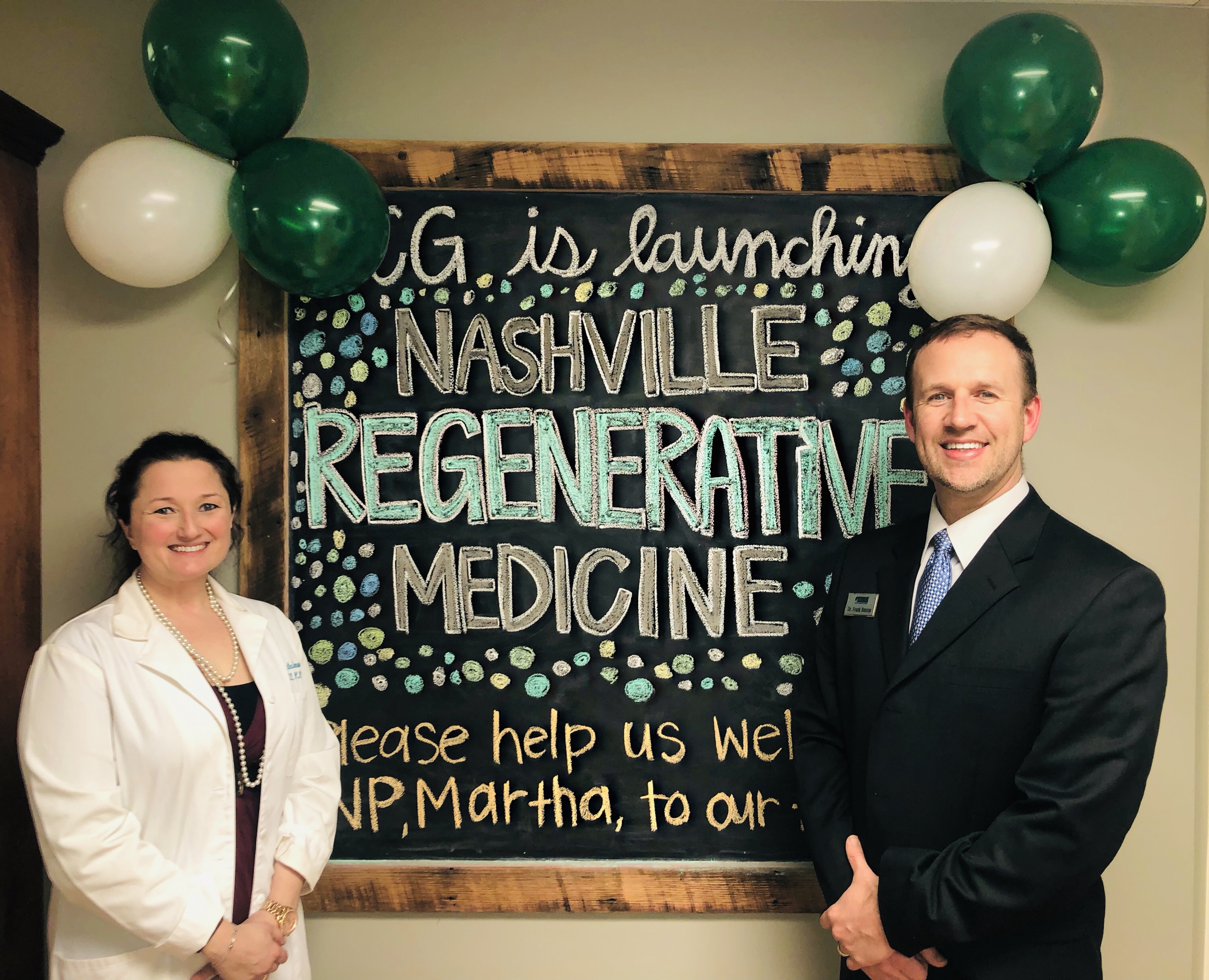 NASHVILLE REGENERATIVE MEDICINE MISSION STATEMENT:
To help as many people as possible live long, healthy, and pain-free lives.  We offer patients a high-quality, natural treatment option for certain conditions, especially joint degradation and certain orthopedic injuries.
Our goal is to offer innovative therapies to enhance the body's natural ability to heal through trustworthy,  regenerative procedures
HOW DOES REGENERATIVE MEDICINE WORK?
Generally, groups of cells make and secrete their own support structures, called an extracellular matrix. This matrix does more than just support the cells; it also acts as a relay station for various signaling molecules, helping treat and rebuild the surrounding tissues as needed.
Regenerative Medicine is the natural treatment for certain conditions through the process of transplanting human tissue with certain cells that include this matrix to stimulate an inflammatory response within the body.  Through medical technology, we can now understand how these certain specialized cells (cytokines, growth factors, mesenchymal signal cells, etc) are found in rich supply in certain tissues and how they interact with their environment to organize themselves into a healing process. Scaffolds of new tissue are created with these specific cells, and the potential for true cellular regeneration is initiated.  Regenerative medicine therapies allow for the tissues to "self-assemble" to treat not only the symptoms, but also repair the damaged cells and tissue that is causing the dysfunction and symptoms.
WHAT CAN REGENERATIVE MEDICINE BE USED FOR?
Regenerative medicine can be used for a multitude of conditions including, but not limited to: pain management, sports injuries, spinal conditions, wound care, and aesthetics.
WHY REGENERATIVE MEDICINE?
Truly, the most important investment we can make with the greatest return, is in the health and duration of our lives.  Regenerative medicine therapy, under the right circumstances, may prolong or eliminate the need for surgical procedures so that you may fully enjoy life as an active participant with your loved ones.  Regenerative Medicine is far more safe and more cost effective than surgeries and other commonly used treatments.  Furthermore, the potential for tissue regeneration, regrowth, and repair is possible without scar tissue and other unwanted effects from more commonly used procedures.
WHAT IS STEM CELL THERAPY?
Mesenchymal signal cells (MSC) are derived from the connective tissue that surrounds other tissues and organs. They may be obtained from bone marrow, fat, or umbilical cord blood obtained at birth. These cells are "multipotent" or "pluri-potent" meaning they can differentiate into other specific tissue types, namely bone, cartilage, tendons, ligaments, muscle, and fat.
The main function of regenerative cells is to signal, maintain, and repair tissue. MSC are found in our regenerative products and enhance the natural function of repair and tissue regrowth within the body.
Nashville Regenerative Medicine has partnered with New Life Regenerative Medicine to bring patients the highest quality regenerative tissue on the market from umbilical cord blood and the Warton's Jelly donated after live births.
Regenerative cells are as old as you are and diminish as you age, losing both their abundance and their efficacy. As there are controversial and ethical issues surrounding the use of embryonic stem cells, science has now turned to MSCs obtained from birth tissues which cause no harm to the mother or her newborn.
Prior to a scheduled cesarean section, consenting mothers are screened and evaluated. Within thirty days of the scheduled delivery, the mother is serologically tested, per the standards of the FDA and the American Associates of Tissue Banks, to rule out any transmissible diseases or other contraindications.
WHAT IS PLATELET RICH PROTEIN (PRP) THERAPY?
Platelets are naturally extremely rich in the connective tissue growth and healing factors. The body's first response to tissue injury is to deliver platelets to the area. Platelets initiate, repair, and attract MSC to the injury. In order to maximize the healing process, the platelets must be concentrated and separated from the red blood cells. The goal of PRP is to maximize the number of platelets, while minimizing the number of red blood cells in a solution that is injected into the injured or pained area(s).
PRP therapy begins with a collection of 10-20 milliliters of your own blood. Your blood sample is then placed into a centrifuge to separate the platelet-rich plasma from the other components of whole blood. Our medical specialist then injects the concentrated platelets into the site of the injury, thus initiating a healing response.  PRP is especially good at treating soft tissue injures, tendonitis-type injuries, and grade I and II sprains and strains.  PRP contains some of the same cells found within the matrix and may enhance the tissue repair when added with other New Life regenerative products.
WHAT MEDICAL CONDITIONS COULD POTENTIALLY BENEFIT FROM NASHVILLE REGENERATIVE MEDICINE PLATELET RICH PROTEIN AND REGENERATIVE CELL THERAPY?
Osteoarthritis
Degenerative joint disease
Knee pain including knee osteoarthritis, degenerative joint disease, meniscal tears and ACL/PCL tears.  Research studies have shown cartilage growth and repair after just one stem cell injection.
Shoulder pain including rotator cuff injuries, arthritis etc.
Hip pain
Interested in learning more? Set up a consultation with us today!
Disclaimer: Each patient's response to regenerative medicine procedures is individualized and results may vary. We make no guarantees that these procedures "heal" or "cure" an individual. Our goal is to offer innovative therapies to enhance the body's natural ability to repair and to be treated through trustworthy, regenerative processes.

Batson ChiroHealth Group | (615) 751-0958