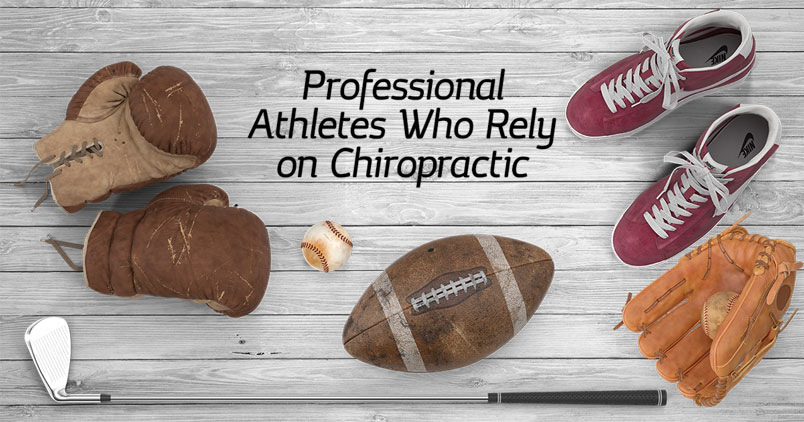 Chiropractic care not only helps injuries heal faster, but it can go a long way in preventing them and in keeping the body healthy. Countless professional athletes in every sport rely on chiropractic care to stay in peak physical condition so that they can perform at the highest level. Here are 16 current and former professional athletes who rely on chiropractic to keep them healthy.
Baseball
Barry Bonds
Considered to be one of the best baseball players of all time, the former left fielder played 22 seasons with the Pittsburgh Pirates and San Francisco Giants, earning several Major League Baseball (MLB) hitting records, including most career home runs (762).1 Following an injury during training, he sought chiropractic care and was amazed by the results.
"I just saw my chiropractor. I feel 100 percent better."
Later, during an interview with Dr. Alan Palmer, DC, CCST, Bonds noted, "I think it should be mandatory to see a chiropractor and massage therapist."2
Wade Boggs
The 12-time All-Star third baseman with a famous chicken-eating habit, Wade Boggs, is something of a legend in baseball. Throughout his 18-year MLB career, he amassed 3,010 hits and 118 home runs. Boggs, who was inducted into the National Baseball Hall of Fame in 2005, reached base safely in 80 percent of his career 2,432 games.3 After suffering with severe back pain for nearly 10 years, he was treated by a chiropractor, Dr. Craig Newman, DC, and made a full recovery.
"I don't feel that stiffness in the entire midsection anymore. I haven't winced since I started this."4
Basketball
Michael Jordan
Michael Jordan is arguably the best basketball player in NBA history. Drafted by the Chicago Bulls in 1984, Jordan played 13 seasons in Chicago before retiring. He returned to basketball in 2001 to play for the Washington Wizards for 2 years before his final retirement from the game. His list of athletic achievements is long, ranging from being named the NBA's most valuable player (MVP) 5 times to winning 6 NBA championships and even scoring 69 points in one game. Michael Jordan also holds records for the Bulls in scoring (29,277), assists (5,012), and steals (2,306).5 He is a firm believer in chiropractic and attributes part of his success to the care he received.
"Since I've been in chiropractic, I've improved by leaps and bounds both mentally and physically."6
Derrick Rose
One of the best current professional basketball players, Derrick Rose, was named the NBA's league MVP in 2011, the youngest player (22 years old) to ever receive the honor. Prior to starting his career in the NBA, Rose was ranked the best high school point guard in the nation his senior year, averaging 25.2 points per game. He played one year of college ball at the University of Memphis before being drafted by the Chicago Bulls in 2008. He earned Rookie of the Year during his first NBA season and averaged 25 points per game over the next 3 years.7 After some severe back spasms that forced him to miss 5 games, Rose was introduced to chiropractic care.
"The whole week I was seeing a great chiropractor, [Dr.] Stuart Yoss. He did a great job on getting me back."
Derrick Rose made a full recovery and returned to the court.8
John Stockton
One of basketball's great point guards, John Stockton of the Utah Jazz, is probably best known as the top passer in NBA history. By the end of his career, he had amassed 15,806 assists. But he wasn't just good at giving the ball away; he also led the league in steals twice, finishing his career at 3,265.9 Also impressive is that "Jazz players missed very few games due to injury," a feat that Stockton attributed to the team chiropractor, Dr. Craig Buhler, DC.
"I became both a believer in and a student of his methods. Using pain as a warning light and muscle testing as the body's tool for communication, he was able to eliminate pain and increase function for almost all chronic and acute injuries with-out the use of drugs."10
Gerald Wilkins
Drafted by the New York Knicks in 1985, Gerald Wilkins spent 13 seasons in the NBA, playing also for the Cleveland Cavaliers, the Vancouver Grizzlies, and the Orlando Magic.11 Throughout his career, Wilkins was known as a great defender. He also asserts that chiropractic care improved his skills.
"My shooting has improved because of chiropractic. I feel more balanced and have more coordination and control."12
Bodybuilding
Arnold Schwarzenegger
Austrian-born bodybuilder, movie star, and politician Arnold Schwarzenegger has achieved a great deal of success in his lifetime. Always the athlete, young Arnold picked up a barbell for the first time at age 13 during team soccer training. He decided then that he would devote his life to fitness.13 Schwarzenegger attributes much of his success to the chiropractic profession, and he has promoted chiropractic throughout his career, even as the governor of California.
"We've got to let the people know that there is a necessity — it's not even an option; it's a necessity — to have a chiropractor. As much as it is a necessity to have a dentist. If you have a dentist for the family, you should have your chiropractor for the family."14
Boxing
Evander Holyfield
A highly recognized name in boxing, Evander Holyfield began his career in 1984 as an Olympian; he took home the bronze medal. In 1990, his victory over Buster Douglas earned him the title Undisputed Heavyweight Champion of the World. He would go on to win 4 more heavyweight championships, making Holyfield the only 5-time Heavyweight Champion of the World.15 He considers chiropractic care essential to his success.
"I have to have an adjustment before I go into the ring. I do believe in chiropractic. I found that going to a Chiropractor three times a week helps my performance. The majority of boxers go to get that edge."16
Football
Joe Montana
Hall of Fame quarterback Joe Montana played 16 seasons in the NFL before retiring in 1994. Regarded as one of the greats, he led teams to victory from behind in the fourth quarter a total of 31 times, earning him the nickname, the comeback kid.17 Montana credits his success, in part, to chiropractic care, even being treated by a chiropractor in front of a live audience during Super Bowl XXIII in 1989.
"Chiropractic has been a big part of my game . . . Chiropractic works for me."18
Jerry Rice
Jerry Rice — widely considered one of the best wide receivers in football — played 20 seasons, more than any other wide receiver in NFL history. As a spokesperson for the Foundation for Chiropractic Progress, Rice attributes much of his success and the longevity of his career to chiropractic care.
"I did a lot of things to stay in the game, but regular visits to my chiropractor were among the most important," said Rice.19
He still holds several NFL records, including most receptions (1,549), most receiving yards (22,895), and total touchdowns (208).20
"The game of life requires the edge that chiropractic care provides."21
Bill Romanowski
A 4-time Super Bowl champion, Bill Romanowski was a linebacker in the NFL for 16 seasons. He credits his chiropractor, Dr. Craig Buhler, with helping him avoid missing a single game throughout his career.
"I was able to keep the streak of 243 straight games in 16 seasons in the NFL. I was so amazed at what Dr. Buhler was able to do with my body and well-being that I recommended him to the Broncos, Raiders and to many high level multi-million dollar athletes."22
Romanowski is a strong believer in chiropractic, attributing chiropractic care, in part, to his recoveries of 10 documented concussions that he suffered during his football career. "You can get a concussion when the occiput is out of alignment," says Romanowski.23
Emmitt Smith
The iconic Dallas Cowboys star, Emmitt Smith, was one of the best running backs in NFL history. During his 15 seasons, he broke several records, including all-time leading rusher (18,355 yards) and all-time rushing touchdowns (164 touchdowns). Since retiring from professional football, he has accomplished a lot, like serving as a football analyst for ESPN and the NFL Network, appearing on ABC's popular reality show Dancing with the Stars, managing several companies in real estate and construction, writing books, and providing educational opportunities to underserved youth through his outreach program Pat & Emmitt Smith Charities.24 While in the NFL, Smith visited a chiropractor regularly.
"I go see the chiropractor when I get bent out of shape on Sundays. Playing in a football game is like being in 30-40 car accidents."25
Golf
Fred Funk
As one of the oldest players to make it into the top 50 of Official World Golf Ranking, Fred Funk is a big believer in chiropractic. He says,
"I do believe chiropractic has really benefited my game.  Over the last three years, I feel I have become more exposed to, and knowledgeable about, the benefits of chiropractic for me and my game.  I realize how your body can get out of balance, and chiropractic care helps me. So many guys on the tour wanted chiropractic care that the tour had to supply a regular chiropractor that travels with us two weeks out of the month!"26
Pádraig Harrington
The winner of two British Open championships and a Professional Golfers Association (PGA) championship, Pádraig Harrington, trusts his game to chiropractic care.27 His chiropractor, Dr. Tom LaFountain, DC, works with a team of chiropractors who provide chiropractic services at all PGA tours. According to Dr. LaFountain, "the most common injuries are strains and sprains in the lower back and neck," in addition to tendonitis in the wrists and forearms. Harrington is a supporter of chiropractic, saying,
"One thing I know through experience is that I need to keep seeing my chiropractor, even when I have a few weeks off from golf. Getting on-going chiropractic care helps me to stay injury-free. It also helps me to deal with symptoms when they begin, so that they don't turn into bigger injuries down the road."28
Tiger Woods
One of the most popular and naturally talented golfers, Tiger Woods, began golfing before age 2. At the age of 20, he began his professional career and signed $40 million in endorsement deals, drawing a lot of attention to golf.29
"Being a chiropractic patient has really helped me a lot," says Woods. "When I was in a growth spurt, my back became very sore and I was weak. My chiropractor really helped me. Not only did he adjust my spine, he also gave me strengthening exercises to do. If you are tall and gangly, like I am, or play sports, I would recommend chiropractic. It's as important to my game as practicing my swing!"30
Mixed Martial Arts (MMA)
Ronda Rousey
Ronda Rousey has received a lot of attention lately — and with good reason. As the first and current Ultimate Fighting Championship (UFC) Women's Bantamweight Champion, she is regarded as the best female mixed martial arts fighter in the world. Rousey has won every fight in the first round. She even became the first American woman to earn a medal in judo at the Beijing Summer Olympics in 2008.31 She credits Dr. Sarkis Cholakyan, DC, with helping her perform her best.
"A lot of the injuries that I get during training, I can count on Dr. Sarkis Cholakyan because he always helps me get better. Thanks a lot to Cholakyan Chiropractic!"32
These top athletes — and many more — trust their chiropractors to keep them on the field, in the ring, and on the court. Many teams even bring at least one chiropractor with them when they travel. Professional athletes know how to stay in prime condition, and that's with regular chiropractic care. Whether you're an athlete or just prefer to watch from the sidelines, chiropractic care can help you stay well, too!
Call (615) 751-0958 today to schedule your next chiropractic appointment with one of the five experienced doctors of Batson Chiropractic Group. Or click here to request an appointment online!
---
References
Access Group of Miami, LLC. Barry Bonds Bio. Retrieved from http://www.barrybonds.com/pages/bio
Palmer, A. (2001, October 22). Barry Bonds – a True Chiropractic Champion. Retrieved from http://www.dynamicchiropractic.com/mpacms/dc/article.php?id=18270
National Baseball Hall of Fame and Museum. Wade Boggs. Retrieved from http://baseballhall.org/hof/boggs-wade
Pro Baseball Chiros (2014, July 27). Professional Athletics and Chiropractic: A Winning Combination. Retrieved from http://www.probaseballchiros.com/articles/2014/7/27/professional-athletics-and-chiropractic-a-winning-combination
NBA Media Ventures, LLC (2001). Michael Jordan's Honors. Retrieved from http://www.nba.com/jordan/list_honors.html
AZ Quotes. Michael Jordan Quotes. Retrieved from http://www.azquotes.com/quote/850211
Biography.com Editors. Derrick Rose. Retrieved from http://www.biography.com/people/derrick-rose-21320005
Quartell Chiropractic (2013, February 22). Look Who Else Uses Chiropractic: Professional Basketball. Retrieved from http://palmbeachgardens-chiropractor.com/tag/michael-jordan/
NBA.com. John Stockton. Retrieved from http://www.nba.com/history/players/stockton_summary.html
Advanced Muscle Integration Technique. Testimonials: Elite and Pro Athletes. Retrieved from http://amitmethod.com/testimonials.html#elite
Net Industries (2015). Dominique Wilkins – Related Biography: Basketball Player Gerald Wilkins. Retrieved from http://sports.jrank.org/pages/5298/Wilkins-Dominique-Related-Biography-Basketball-Player-Gerald-Wilkins.html
Quartell Chiropractic (2013, February 22). Look Who Else Uses Chiropractic: Professional Basketball. Retrieved from http://palmbeachgardens-chiropractor.com/tag/michael-jordan/
Robson, D. (2014, March 5). Tribute to a Great Champion. Retrieved from http://www.bodybuilding.com/fun/drobson58.htm
Painter, F. (2011, March 7). Governor Arnold Schwarzenegger Promotes Chiropractic. Retrieved from http://chiro.org/wordpress/2011/03/07/governor-arnold-schwarzenegger-promotes-chiropractic/
Holyfield Management, Inc. (2014). Timeline: Evander Holyfield. Retrieved from http://www.evanderholyfield.com/timeline/
Eaton, B. (2015). Evander Holyfield on Chiropractic. Retrieved from http://www.drbarbaraeaton.com/evander-holyfield-on-chiropractic/
Pro Football Hall of Fame. Joe Montana. Retrieved from http://www.profootballhof.com/hof/member.aspx?PLAYER_ID=154
Living Well Chiropractic. Joe Montana and Jerry Rice. Retrieved from http://livingwellchiroaz.com/pro-athletes-and-chiropractic/joe-montana-and-jerry-rice.html
Foundation for Chiropractic Progress. Jerry Rice. Retrieved from http://www.yes2chiropractic.org/jerry-rice/
Pro Football Hall of Fame. Jerry Rice. Retrieved from http://www.profootballhof.com/hof/member.aspx?PlayerId=290
AZ Quotes. Jerry Rice Quotes. Retrieved from http://www.azquotes.com/author/12284-Jerry_Rice
Advanced Muscle Integration Technique. Testimonials: Elite and Pro Athletes. Retrieved from http://amitmethod.com/testimonials.html#elite
Ward, F. (2009, November 21). Bill Romanowski: "I can help Brian Westbrook heal quickly." Retrieved from https://negadelphia.wordpress.com/2009/11/21/bill-romanowski-i-can-help-brian-westbrook-heal-quickly/
Emmitt Smith Enterprises, LLC. (2015) Emmitt Smith: President & CEO, Emmitt Smith Enterprises. Retrieved from http://www.emmittsmith.com/bio/emmitt-smith
Foster, S. (2014, April 21). Emmitt Smith & Chiropractic. Retrieved from http://www.fosterfamilychiropractic.com/blog/2014/04/emmitt-smith-chiropractic/
Quartell Chiropractic (2013, March 15). Look Who Else Uses Chiropractic: Professional Golfers. Retrieved from http://palmbeachgardens-chiropractor.com/look-who-else-uses-chiropractic-professional-golfers/
Harrington, P. 2007 Open Champion. Retrieved from http://www.padraigharrington.com/open_champion_2007.php
Quartell Chiropractic (2013, March 15). Look Who Else Uses Chiropractic: Professional Golfers. Retrieved from http://palmbeachgardens-chiropractor.com/look-who-else-uses-chiropractic-professional-golfers/
Sirak, R (2006). 10 Years of Tiger Woods. Retrieved from http://sports.espn.go.com/golf/features/tigerwoods/index
Quartell Chiropractic (2013, March 15). Look Who Else Uses Chiropractic: Professional Golfers. Retrieved from http://palmbeachgardens-chiropractor.com/look-who-else-uses-chiropractic-professional-golfers/
Rousey, R. About Ronda. Retrieved from http://www.rondamma.com/about.html
Cholakyan Chiropractic. Testimonials. Retrieved from http://cholakyanchiro.com/about-us/testimonials/